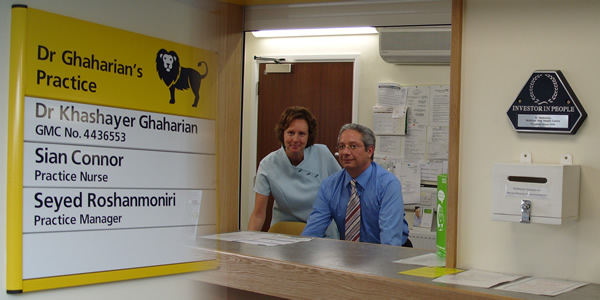 Welcome to the Doctor Ghaharian Surgery Website
In our practice we aim to provide the very best to all our patients irrespective of their age or cultural differences.
Our team will endeavour to understand your needs and tailor our expertise to meet your requirements in the best possible way.
We are proud to provide a service that is very much like a family with values that could reflect the foundation of family health services following the National Guide lines and National Institute of Clinical Excellence.
We would like to offer our patients the opportunity to participate in the patient directive group which will enable us to have their point of view in terms of any concerns or worries. This will enable us to find different strategies to improve our services and evaluate our protocols and procedures.
The practice is following the national guide lines in terms of patient care and our interest is only focused on the patient and their social, psychological and physical needsat all times. We look at the patient holistically which we think is the essence of true medicine.
We are participating in all the new local enhanced services and the achievement of our practice in the QOF is amongst one of the best in Nottingham.
The Doctor and his clinical team will make sure that they are all up to date with their professional obligation towards patients.
All members of staff regularly update themselves with new developments within the Health Service .
This surgery is proud to provide a service that is respectful of all ages rights and we pay particular attention to privacy and confidentiality.
Dr Ghaharian's Surgery has been awarded the "Investors In People" twice in a row and we are very proud of it.
Patient health and happiness is what we endeavour for.
If you or a family member require urgent medical assistance when the surgery is closed, please call the normal daytime surgery number or the out of hour's service on
0845 6031466
Your needs will be assessed and you will either be given advice or arrangements will be made for you to see a healthcare professional.

You can also visit a NHS Walk in Centre . These nurse led drop in centres offer health advice, information and treatment of minor ailments by experienced NHS nurses and health information advisors.
You can find a Walk in Centre at:
| | |
| --- | --- |
| Stapleford | 8:00am till 6:00pm Mon – Fri |
| | 8:00am till 4:00pm Sat Sun |
| London Road | 8:00am till 9:00pm Every Day |
| Parliament Street | 8:00am till 8:00pm Every Day |
You can also call NHS Direct, which provides a 24 hour advice and health information service on
0845 4647
For more information see www.nhsdirect.nhs.uk
Nottingham City Community Phlebotomy (Blood) Service
Wollaton Vale Health Centre
To support the people of Wollaton and the surrounding area the community Phlebotomy service are changing the way hey deliver clinics to suit your needs. Instead of booking an appointment or being turned away because the clinic was fully booked you will be able to drop In on Tuesdays or Thursdays between 8:00 am and 12:00pm
When your Doctor requests you have a blood test you can attend any Wollaton Vale health Centre Phlebotomy clinic on Tuesday or Thursday between 8:00 am and 12:00 pm. When you arrive go to the Health Centre Reception (on the left as you enter the Health Centre), not Dr Ghaharian's Reception. Show the Receptionist your blood card and collect a ticket and sit in the waiting area for your number to be called.
News Letter
click here to download the latest news letter (PDF)
Prescriptions
Please request your repeat prescription in writing giving 48 hours notice using the slip provided.Please be aware that, with the exception of the elderly or disabled, we cannot accept phone requests for prescriptions. Please notify the surgery if you cease taking a particular medication in order that your computerised record be amended.
Updating Records
We would be most grateful if you could notify the Surgery of any changes of your address/telephone number. Furthermore let us know the details of your next of kin as this could be crucial in the event of an emergency.
Short-Term Sickness
For the first week of sickness ' self certification' is required. Employers provide these certificates. However should a private certificate be required the Doctor can issue one (a charge will apply). The Doctor MUST see the patient if a certificate is required. Back-dated certificates cannot be issued.
Letters/Insurance Claims/Passports etc
The Doctor is willing to issue these. However Charges will apply – please see the practice notice board.
New Patients
We welcome any new patients living in the following areas which Dr.Ghaharian's Surgery covers: Strelley, Aspley, Bilborough, Wollaton, Bramcote, Stapleford and Lenton Abbey.
Results of Tests
Please telephone or call after 10.00 am. The Receptionist can only tell you if the test is back and is normal. If you need more information you may be asked to speak to/ see the Doctor or Practice Nurse and in certain circumstances you may be informed in writing.
Disabled Access
The Surgery has wide automatic opening doors which ensure easy access for wheelchair users.
Health & Safety
In case of an emergency all visitors must use the nearest exit and assemble in the car park.
Patient's Charter
We will always endeavour to provide the highest quality of care and the friendliest service for this reason you may sometimes be asked to wait a little longer to see your Doctor. We would thank you for your understanding in such circumstances. With your support, we aim to offer An appointment within two working days Keep your wait in the surgery to a minimum See you the same day if your problem is urgent Please help us to help you by : Arriving on time for your appointments Cancelling in good time an appointment which you no longer require Being courteous to all of the staff Only asking for an urgent appointment if the treatment cannot wait until the next surgery.
Patient Information
Any information collected may be shared with other parts of the NHS or other people involved with your treatment. Everyone working for the NHS or receiving information from us has a legal duty to keep information about you confidential. If you require access to your medical records, please contact the Practice Manager.
Zero Tolerance
Please note that physical violence or verbal abuse will not be tolerated by this Practice and any such behaviour by patients or their family members could lead to them being removed from the Practice's list.
Comments/ Compliments/ Complaints
We welcome your views and suggestions as these are a valuable way in which to improve our service to our Patients. Should you wish to make any comments please find the 'suggestions box ' for your use at the reception desk. These comments will be treated in the strictest confidence or should you prefer you could write to the Practice Manager.
Home Visits
A home visit can be made if you are too ill to attend the Surgery. Please telephone the Surgery before 10.00 am and clearly explain your situation to the Receptionist. If the Doctor is busy or already visiting another patient you may be asked to wait. The Doctor may call you first or send the Practice Nurse to triage you. Please ensure that you use this facility in the event of a genuine emergency only.
When the surgery is closed
If you or a family member require urgent medical assistance when the surgery is closed, please call the normal daytime surgery number or the out of hour's service on 0845 603 1466. More info>>
Personal Injury
If you have suffered Personal Injury due to an accident please consult your GP for advice. If the accident was not your fault then you may be entitled to compensation. Please consult your local Accident Manager on 0800 840 5312 or Click HERE to request a Call Back.
Young People
All of our services are free and confidential for all young people including those under 16. Even if you are aged 13 –16 you can go in to see the doctor or nurse on your own (without a parent or carer). Click for more details.